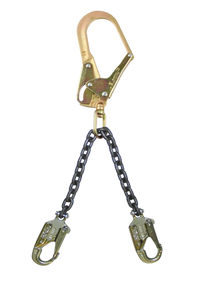 Swivel Steel Rebar Hook with 2.5" Gate Opening; Clevis-pin Steel Snap Hooks; Grade 80 Chain.
Rebar hook features swivel with ANSI compliant 3,600 lbs gate
Swivel rebar hook provides tangle-resistant connection to vertical member
High-strength welded link grade 80 chain provides unsurpassed durability
Clevis-pin snap hooks reduce the need for additional connecting parts
2-1/4" gate swivel rebar hook with two locking snap hooks.
9/32" grade 80 chain complies with the toughest standards in the business.
To be used for work positioning with a qualified 3-D Full Body Harness.