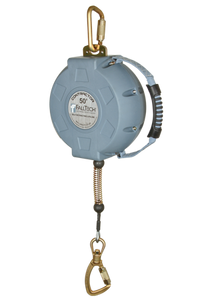 SRL with Glass-filled Nylon Housing; 1 Connecting Carabiner and 1 Load-indicating Swivel Carabiner.
Rugged construction for superior wear and reliability
3/16" galvanized steel cable
Load-indicating swivel carabiner clearly shows when a fall event has ocurred indicating the device should be removed
Rugged, lightweight design. Full inertial brake mechanism.
Load-indicating swivel carabiner with 3,600 lb. gate.
Rated for one worker up to 310 lbs.
Meets ANSI Z359.1-2007, ANSI A10.32 and applicable OSHA requirements.