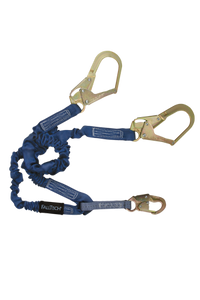 Adjustable Y-leg for 100% Tie-off; with 1 Snap Hook and 2 Rebar Hooks.
Double-leg 100% Tie-off construction for user mobility.

Features full-length internal energy absorber with low-profile design.

Includes alloy steel snap hook for harness attchment and rebar hooks for anchorage connections.

High-modulus internal elastic won't slack after repeated use.

Featuring Transverse Load Rated rebar hooks.